16 Best Places to Eat in Florence, Italy
Italians are always thinking about food. During breakfast, they are thinking about lunch; while eating
lunch, they are thinking about dinner; and during dinner, they are already thinking about tomorrow's
breakfast. Food is the foundation of Italian life. While visiting Italy, do as the Italians do: eat, and eat
well.
Breakfast
In Italy, breakfast is simple and sweet. A cappuccino, a cornetto (a pastry similar to a croissant), and a bit
of fruit or fruit juice make up a classic Florentine breakfast. The easiest, quickest, and most budget-friendly option is to drop by the nearest bar or pasticceria. In Italy, the word "bar" can mean a bistro
with a counter that offers quick coffees and ready-made pastries. A pasticceria will offer you artisanal
pastries, and also coffee if you ask. In these places, you can find all the components of a traditional
Italian breakfast. If you are looking for something a bit more elegant for a special breakfast or brunch,
try one of these locales:
1. Bottega di Pasticceria
True to the Italian tradition, this bottega offers fresh pastries – and for a fair price that will hardly
leave a dent in your wallet. There are two locations in Florence: one along the Arno near Piazza
Ferruci, and one further north of the city center on Via Masaccio. Both locations have a sweet smell
and a sophisticated atmosphere.
2. La Ménagère
This bistro is both an Italian-style bar and a cocktail bar. In the morning, they offer delicious coffees
and artisanal pastries. The interior is whimsical while the exterior is charming. Overall, a breakfast at
this location only serves to add to the dream of a morning in Firenze.
3. Ditta Artiginale
If you, like me, were raised on more savory breakfasts and find yourself craving a good plate of toast
and eggs, try Ditta Artiginale. This restaurant has 4 locations throughout Florence, so there is bound
to be one within a walkable distance from your accommodation. The café on Via dello Sprone, near
Palazzo Pitti, is frequented by smart workers and students alike; here you are more than welcome to
bring your laptop and work or study while you enjoy some caffè. The location on Via dei Carducci in
the Sant'Ambrogio district offers a "Coffee School" in which you can learn more about the art of
Italian coffee. My recommendation: try a little bit of both Italian and foreign cuisine. Order Ditta's
cappuccino and the soft scrambled eggs.
Lunch
At approximately 1 o'clock in the afternoon, many Italians take a break from work to grab a quick bite to
eat. For a quick on-the-go style lunch, it is common to return to the bar (such as the one you may have
visited for breakfast) and grab a panino (sandwich) and an espresso. You can enjoy your panini right
there at the bar, or you can take them and go for a picnic along the Arno. This option fits right into the
Italian tradition. However, if you are tired from your morning excursion and want to sit and enjoy a nice
meal in peace, you may want to visit one of these restaurants that offer traditional Italian cuisine.
4. Ristorante Lorenzo de' Medici
As large as nearly an entire city block, there is always an available table at Ristorante Lorenzo de'
Medici. This restaurant makes all kinds of Italian specialties from pasta to pizza. While it may come
off as a tourist trap, you can trust me that the food is genuine and delicious. The wait staff are kind,
attentive, and want to ensure you have a great dining experience. Another positive aspect: this
place caters to different dietary needs, including gluten intolerances.
5. Risotteria Melotti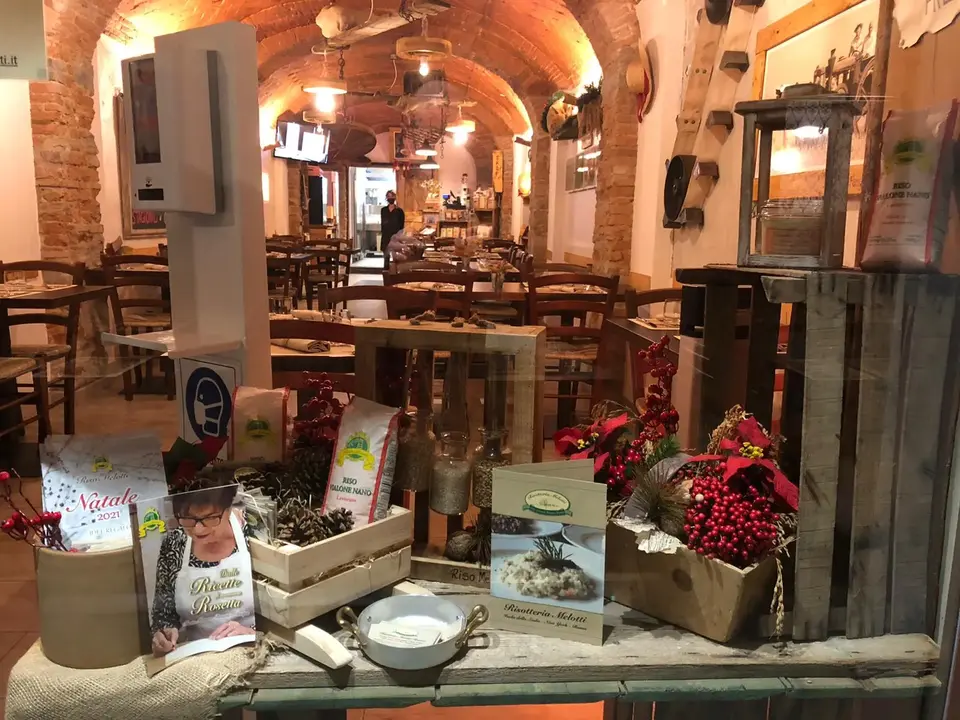 Risotto is a classic Italian dish made with slow-cooked rice. Most Italian restaurants offer a wide
variety of pasta dishes and secondi (meat-based dishes), but usually only one risotto option – if that.
Risotteria Melotti, on the other hand, makes nothing but risotto. They specialize in rice and rice-based dishes. Even their desserts are rice-based. And the best part? Because this restaurant makes
only rice-based dishes, it is 100% celiac safe!
6. All'Antico Vinaio
This panini shop has gone viral for it's delicious sandwiches. It has become so trendy, in fact, that it
employs workers to help all its customers form a winding line in the street as they wait. Their main
location is near the Galleria degli Uffizi, but they also have a location on Piazza San Marco. The
sandwiches are made on a type of bread that is typically Florentine called schiacciata. It is the same
type of dough that Florentine people will use to make pizza as well. All'Antico Vinaio offers a wide
variety of toppings to make the perfect schiacciata sandwich.
7. Sgrano
If the idea of an artisanal panini interests you, but the long line of All'Antico Vinaio does not, try a
restaurant just a few steps down the street. Sgrano makes schiacciate sandwiches just the same, but
without any of the gluten. (Yes, this place is also celiac safe!) My favorite combination: start your
meal with an appetizer called "coccoli" (fried schiacciata dough rolled into balls) and move on to the
schiacciata "toscana".
8. Mercato Centrale (upper level)
Mercato Centrale is a place like no other. It is a two-level market with open booths for vendors to
sell fresh and local foods like fish, fruits, and home-made pasta. The upper level acts as a food court
that offers a huge selection of cuisines from various food stands. You can find anything here from
Tuscan classics like pasta and lampredotto, to foreign dishes like Chinese dumplings and sushi. It
does get quite busy during typical meal hours, so you may have to do a few trips around the food
court in order to (1) view all the options, (2) make your selection and order for yourself, and (3) find
an open place at a table to sit and eat. It's busy, but the unique experience is worth the crowd.
**Please note that all of the above locations are also open for dinner hours.
Dinner
Dinner is typically eaten in Florence around 8pm. Most restaurants don't even open for dinner until 7 at
the earliest. It is common to sit, relax, and chat while you enjoy your meal for the entirety of the
evening. There is no rush to eat and vacate the table. So take your time, savor every bite, and don't
worry about leaving until closing time if you'd like.
9. Trattoria Giovanni
This trattoria makes traditional Tuscan dishes – just like Mamma made it. The food is delicious and
authentic. My favorite aspect, though, about this restaurant is the wait staff. The wait staff are
friendly and make you feel like welcomed guests in their kitchen.
10. Fishing Lab
Italy is a peninsula on the Mediterranean Sea. While Florence as a city is not located on the sea, fish
dishes are still popular. At the Fishing Lab, you can find delicious but completely unconventional
seafood dishes. They pride themselves in making dishes that call attention to the original flavors of
the seafood. Believe me, you will not find another restaurant that makes plates quite like this. If you
do eat at this restaurant, be sure to take a walk around the entire restaurant and look up. The
ceiling is home to a glorious fresco not to be missed.
11. 'O Munaciello
If you are visiting Italy for the first time, and don't have the time to make it all the way down to
Naples, you need to try Neapolitan-style pizza. 'O Munaciello makes delicious pizza in the traditional
style of Naples – which, in my opinion, is the best style of pizza. Their menu offers a long list of pizza
options, from classic traditional pizze, to pizzas with house-special topping combinations that you
are unlikely to find anywhere else.
Dessert
If you came to Italy and you didn't try some gelato, did you really visit Italy? It's a necessity. There are
gelaterie everywhere you look in Italy, but not all gelato is made the same. A true gelato should be fresh
and without unnecessary chemicals. A general rule: beware Gelato Mountains. Some gelaterias add
extra chemicals to their gelato in order to keep the gelato colder for longer, particularly if they are piling
the gelato counter too high with mountains of gelato that extend past the chill of the open container.
Skip the questionable gelateria on the corner and make your way to one of these:
12. Grom – near Piazza del Duomo
13. Gelateria La Carraia – on Ponte alla Carraia, near Santa Croce
14. Gelateria Della Passera – near Palazzo Pitti
15. Sbrino – near Piazza Santo Spirito
16. La Strega Nocciola – near Piazza del Duomo, near Ponte Vecchio
Italian cuisine is delicious and, generally speaking, quite healthy. Italian dishes are based on fresh
ingredients and cooked with care. Go on, peruse the menu, be adventurous, and eat well. Buon
appetito!
---
Read also: