Discovering Le Marche Region Wines
The experts have called it "Marche Tasting," but that is more than words can explain.
Impossible to define if you have not tasted the ciauscolo of Macerata or Casciotta of Urbino. However, if you are a food lover that has savored the typical flavors of Le Marche, you will know that we are talking about the authentic and original taste that the products of this region offer despite the passing of time. If you really want a taste of paradise, you must couple olive all'ascolana (fried olives from Ascoli) with vincisgrassi (a type of lasagna) or the fish broth of the Adriatic with a glass of quality wine from the hills of this region.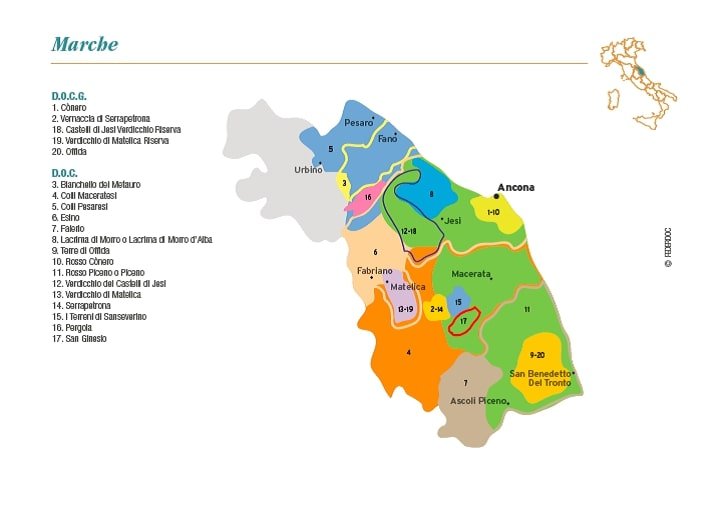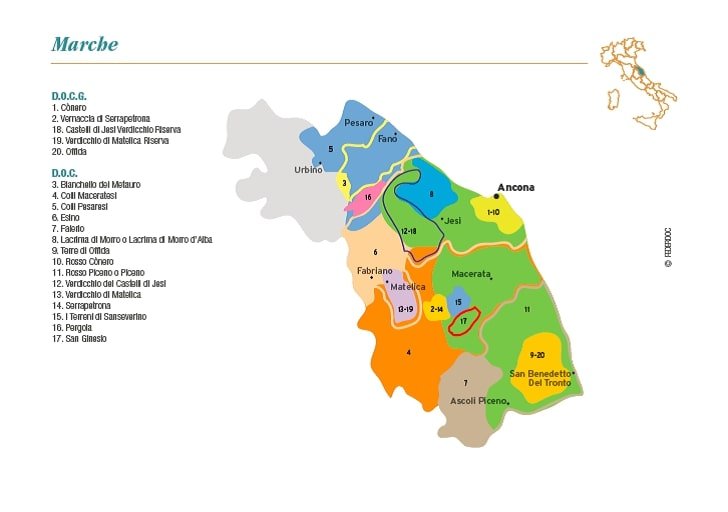 From intense reds to the new sparkling wines: the wines of Le Marche
Le Marche offers many wines classed as DOC and DOCG, the denomination of quality, great variety, and the highest production level. The region that offers the Apennines, mountains, coast, and an ever-changing landscape also bestows various tastes, aromas, and perfumes. Le Marche wine producers know this all too well and, over time, have created excellent vintages that have conquered the world.
Rosso Conero, Verdicchio dei Castelli di Jesi or di Matelica, Vernaccia or Pecorino di Offida: the alternatives are many and can satisfy any palate. Whites or reds, still or bubbly, discovering Le Marche wines can be a fun experience that brings you into contact with nature and the landscape, as well as the great local wine producing culture and its villages and towns.
What better place to start for a wine tasting tour than Le Marche?
Wine tasting tour in Italy: 5 proposals to experience Le Marche vineyards
To ensure that a wine tasting tour is fun and educational, we suggest a series of five tasting tours focused on Le Marche and its excellence without forgetting the pleasure of a good product. Take a trip through five districts, sampling equally famous wines and visiting the most renowned vineyards that preserve quality secrets.
Bianchello del Metauro or Rosso dei Colli?
Quality wine is all the go in Pesaro. Having developed more recently than the great regional classics, several impressive vineyards have come onto the district's scene around Pesaro, the most northerly province of Le Marche, with production and fame constantly growing. There are two main wines, a white and a red, to make everyone happy. The white is Bianchello del Metauro, perfect with mollusks, crustaceans, and fish that is slightly sweet, raw, or lightly cooked in the traditional marinara style. The red is a robust Rosso dei Colli pesaresi that is perfect with meat first and second courses. Among the vineyards for a tour in this area, you must visit Azienda Agricola Guerrieri in Terre Roveresche and Azienda Agraria Fiorini that organize guided tastings of the harvest the grapes, then explore processing and then a tasting. A unique sensory experience.
Wine that meets design: Verdicchio dei Castelli di Jesi
Thinking about Italian quality and wine, fashion and design immediately spring to mind. An Italian wine tour that offers all these factors must mention Verdicchio dei Castelli di Jesi, the only wine with a made-to-measure appearance. Not the typical bottle, Verdicchio dei Castelli di Jesi comes in a specifically designed package that makes it unique. The amphora-shaped bottle, inspired by ancient Etruscan containers, was created as part of a competition by Fazi Battaglia in 1953 that was won by the architect Antonio Maiocchi. It is still sold throughout the world in the same packaging. It is considered by many to be the symbol of the company itself and Verdicchio dei Castelli in particular and a reference icon for Italian wine. A wine tasting tour in Italy must start with a visit to Fazzi Battaglia in Castelplanio (Ancona), the best place to taste the Verdicchio. The vineyard opens its doors on special occasions and offers guided visits and activities to discover one of Italy's iconic wines.
Le Marche sparkling wines: Passerina Spumantizzata
Who said that sparkling wine always had to be Champagne or Prosecco? Le Marche has a card up its sleeve in this area and knows just how to play it with an unusual and innovative proposal that is winning over consumers in what is otherwise a highly traditional sector. We are talking about the bubbly Passerina di Offida, on the podium of up and coming wines according to the classification of VinItaly, the Italian wine event par excellence. Produced with 100% Passerina grapes, it is cultivated at around 300 meters above sea level in the Ascoli Piceno area to the south of the region. It is grown on partially sandy soil and is created from a refermented wine using the Charmat method.
The Cantina Di Ruscio, in the countryside of Campofilone, has been producing quality wines for 60 years and organizes guided visits and tastings on site. Here three generations of the Di Ruscio family are committed to quality wine. A guided visit will let you discover and appreciate one of the most famous and innovative vineyards in the Le Marche region.
Rosso Conero or Rosso Piceno, wines from the mountains to the sea
The most famous Le Marche wines are undoubtedly Rosso Conero, produced from vineyards that grow caressed by sea breezes and embraced by Mount Sibillini, in the hilly area of the ridge of Mount Conero and the hinterland of the city of Ancona, the region's capital. Rosso Conero is a dry wine with notable persistence on the palate. These qualities are derived from the low return per hectare of the grapes and the land structure, and the exclusive microclimate of the Mount Conero promontory. The philosophy is clear and simple: balanced vines, minimal production, and maximum quality. Rosso Piceno is also a must, another excellence from the provinces of Ascoli Piceno and Fermo. With a characteristic ruby-red color, the Rosso Piceno can be sampled at Cantina Ciù Ciù. The prestigious American magazine Forbes listed it as one of the ten best wines of Europe.
The Tenuta Cocci Grifoni in Ripatransone (AP) is also worthy of a visit. In an uncontaminated area, it produces quality reds and famous whites such as Passerina and Pecorino and products such as olive oil and wheat.
Not just grapes: Pergola visciole (sour cherry wine)
If you think about an Italian wine tour, the great classics such as reds with meat dishes or fresh and fruity whites with fish surely spring to mind. However, a series of typical products are worthy of attention even if they do not conform to the standard canons. This is the case for Pergola sour wine, also called visner or visciolato, made with the classic wine method, not with grapes but sour cherries collected from a wild variety of Prunus cerasus. It is fermented with an excellent structured red wine from the previous year's harvest. With the intense red color, strong aroma of sour cherries and berries, and good alcohol content, it is perfect with traditional local pastries. You can find, discover, and taste it at Azienda Agraria Tonelli in Pergola (PU) or the many wine cellars in the area. A special mention must go to the Magia Ciarla wine cellar in Urbino, where you can sample a good sweet wine in the shadows of the towers of the ducal city. Another sweet and fortified wine of the Le Marche region is vin santo made by drying grape bunches in a room where the fire is always alight, bestowing the unique smokey flavor.
Le Marche: the start of an Italian wine tasting tour
This overview of Le Marche wines' wide panorama will offer you all you need to know for a wine tasting tour. Le Marche region produces an extensive quantity of good wine, with production from the north to the south in all the regions and with wines and types that are always new. The special focus in this region on wine has led to producing a product that respects tradition alongside others that are more innovative to satisfy the most demanding clients.
Learning about wines can also be an excellent opportunity to discover Le Marche, a region with a real treasure chest that preserves works of art and the landscape. Starting with wine, you can discover the culture of the art cities and towns as well as tasty regional cuisine and natural beauty that abounds in this region. The various initiatives for lovers of this divine nectar, such as Cantine Aperte (in May) or La Strada del Rosso Conero that unites the cellars producing this wine, will be a real guide in helping you to discover the Le Marche region.
So all that's left to say now is Cheers!