6 Delicious Italian Appetizer Recipes to Kickstart Your Meal
Ciao, amici! It's your friendly Italian food and drinks expert here, back with some scrumptious appetizer recipes to kick off your next Italian dinner party. As someone who's been exploring Italian cuisine for years, I can confidently say that Italian appetizers, or antipasti, are more than just a way to whet your appetite – they're an essential part of the meal that sets the tone for the rest of the feast. So, let's dive in and discover three of my all-time favorite Italian appetizer recipes!
Bruschetta al Pomodoro
Ah, bruschetta – the epitome of simple, fresh, and flavorful Italian appetizers. I can never get enough of this classic!
Ingredients:
1 loaf of Italian bread, sliced into 1/2-inch thick slices
4 ripe tomatoes, diced
1/4 cup fresh basil leaves, chopped
2 cloves garlic, minced
1/4 cup extra-virgin olive oil
Salt and pepper, to taste
Instructions:
Preheat your oven to 350°F (180°C). Arrange the bread slices on a baking sheet and toast them for about 10 minutes, or until golden brown.
In a mixing bowl, combine the diced tomatoes, chopped basil, minced garlic, and olive oil. Season with salt and pepper to taste.
Spoon the tomato mixture onto the toasted bread slices, and serve immediately. Buon appetite!
Prosciutto e Melone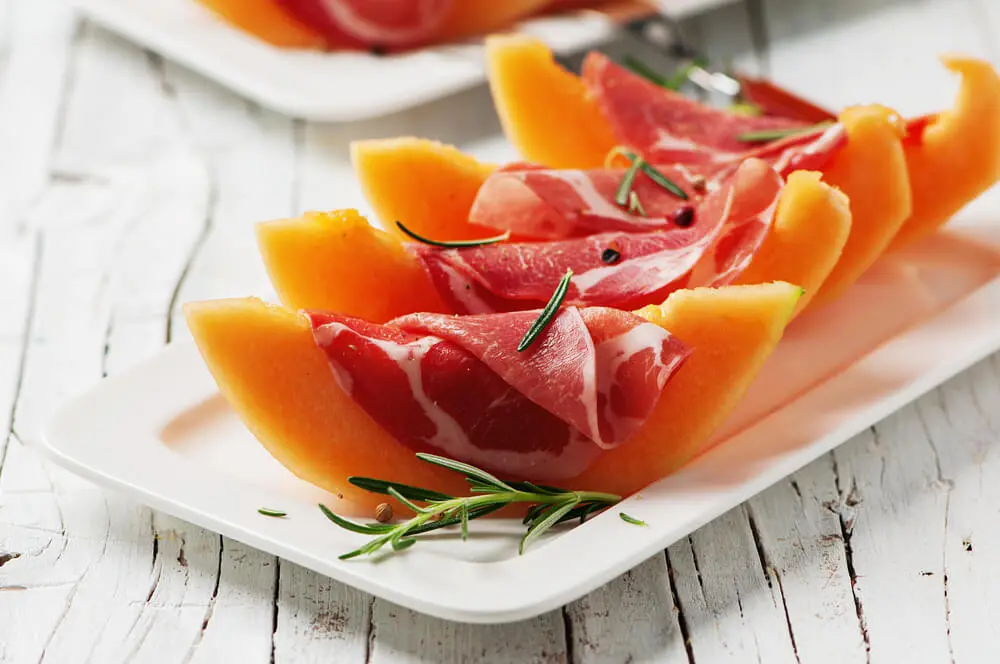 This elegant and refreshing appetizer is an absolute must-try! The sweet and juicy melon wrapped in salty prosciutto will make your taste buds sing.
Ingredients:
1 ripe cantaloupe or honeydew melon, cut into thin wedges
1/4 lb thinly sliced prosciutto
Instructions:
Gently wrap each melon wedge with a slice of prosciutto. Make sure to cover the melon completely but avoid overlapping the prosciutto too much.
Arrange the wrapped melon wedges on a serving platter and serve chilled. This dish is perfect for a warm summer evening or a light start to a heavier meal.
Arancini di Riso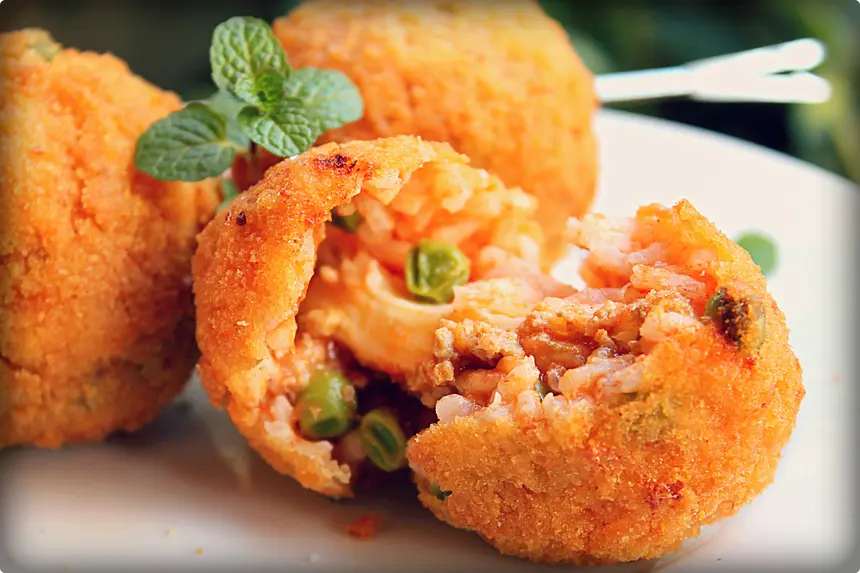 Who doesn't love deep-fried, cheesy rice balls? I know I do! These little bites of heaven are a guaranteed crowd-pleaser.
Ingredients:
2 cups cooked Arborio rice, cooled
1/2 cup grated Parmesan cheese
2 eggs, beaten
1/2 cup mozzarella cheese, cubed
1 cup Italian-style breadcrumbs
Vegetable oil, for frying
Instructions:
In a mixing bowl, combine the cooled rice, Parmesan cheese, and beaten eggs. Mix well.
Take a spoonful of the rice mixture and flatten it in your palm. Place a cube of mozzarella cheese in the center, then shape the rice around the cheese to form a ball. Repeat until all the rice mixture is used.
Roll each rice ball in breadcrumbs to coat evenly.
Heat the vegetable oil in a deep-fryer or large, heavy saucepan to 375°F (190°C). Fry the arancini in batches until golden brown and crispy, about 3-4 minutes.
Drain on paper towels and serve warm with marinara sauce for dipping.
Caprese Salad Skewers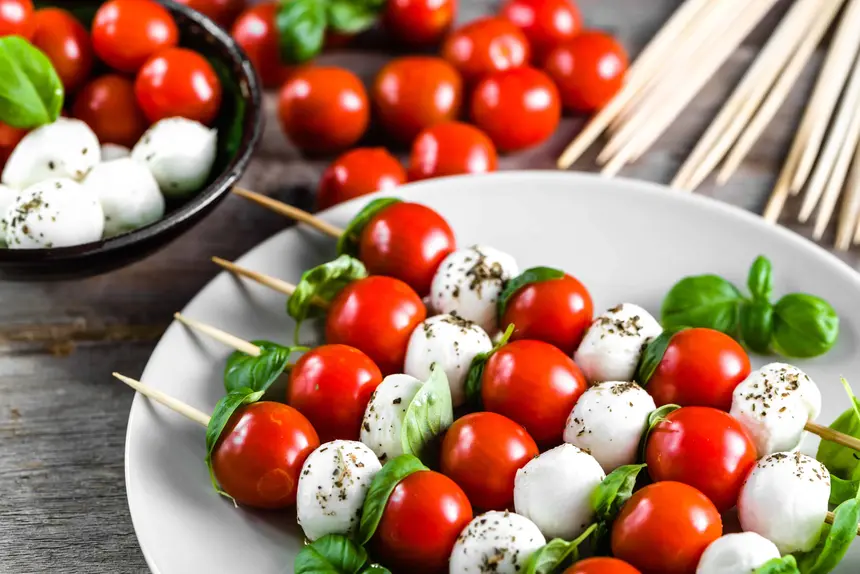 This twist on the classic Caprese salad is not only delicious but also makes for a beautiful presentation. Trust me, your guests will be impressed!
Ingredients:
1 pint cherry tomatoes
1 lb fresh mozzarella, cut into bite-sized cubes
Fresh basil leaves
Extra-virgin olive oil
Balsamic glaze
Salt and pepper, to taste
Wooden skewers
Instructions:
Assemble the skewers by threading a cherry tomato, a basil leaf, and a cube of mozzarella onto each skewer. Continue the pattern until you reach the top of the skewer.
Arrange the skewers on a serving platter. Drizzle with olive oil and balsamic glaze, and season with salt and pepper to taste.
Serve chilled, and enjoy the burst of flavors with each bite!
Frittata di Zucchine e Ricotta
These mini zucchini and ricotta frittatas are not only delicious but also make a perfect appetizer for a brunch or a light dinner party.
Ingredients:
1 tbsp olive oil
1 small onion, finely chopped
2 medium zucchini, grated
1 cup ricotta cheese
1/2 cup grated Parmesan cheese
6 large eggs
Salt and pepper, to taste
Instructions:
Preheat your oven to 375°F (190°C). Grease a 12-cup muffin tin with nonstick cooking spray.
Heat the olive oil in a skillet over medium heat. Add the chopped onion and cook until soft and translucent, about 5 minutes. Stir in the grated zucchini and cook for another 3-4 minutes.
In a mixing bowl, combine the ricotta cheese, Parmesan cheese, eggs, salt, and pepper. Mix well. Stir in the cooked zucchini and onion.
Divide the mixture evenly among the greased muffin cups, filling each about 3/4 full.
Bake for 20-25 minutes, or until the frittatas are golden brown and set. Let cool for a few minutes before removing from the muffin tin. Serve warm or at room temperature.
Olive all'Ascolana
These stuffed olives are a tasty, deep-fried Italian appetizer that's sure to be a hit at your next gathering.
Ingredients:
1/2 lb ground beef or pork
1/4 cup grated Parmesan cheese
1/4 cup breadcrumbs
1 egg, beaten
1/4 cup chopped fresh parsley
1/4 tsp nutmeg
Salt and pepper, to taste
30 large green olives, pitted
1 cup all-purpose flour
2 cups breadcrumbs
3 eggs, beaten
Vegetable oil, for frying
Instructions:
In a mixing bowl, combine the ground meat, Parmesan cheese, breadcrumbs, beaten egg, parsley, nutmeg, salt, and pepper. Mix well.
Stuff each olive with a small amount of the meat mixture, ensuring the olive is completely filled.
Dredge the stuffed olives in flour, dip them in the beaten eggs, and then roll them in breadcrumbs to coat evenly.
Heat the vegetable oil in a deep-fryer or large, heavy saucepan to 350°F (180°C). Fry the olives in batches until golden brown and crispy, about 3-4 minutes.
Drain on paper towels and serve
And there you have it, amici! Six delectable Italian appetizer recipes to make your next dinner party a hit. Remember, a great antipasto sets the stage for an unforgettable meal, so give