The 9 Best beaches in Tropea
Are you looking for a place with a beautiful sea and numerous beaches? Then we absolutely recommend Tropea, a town in Calabria in the province of Vibo Valentia. Its beauty is also called the pearl of the Tyrrhenian Sea! Awaiting you, there will be beaches of all kinds, from those of white sand to those with rocks, and a wonderful crystal clear sea that has nothing to envy to the most famous tropical locations in other parts of the world!
Best Beaches in Tropea
Le Roccette Mare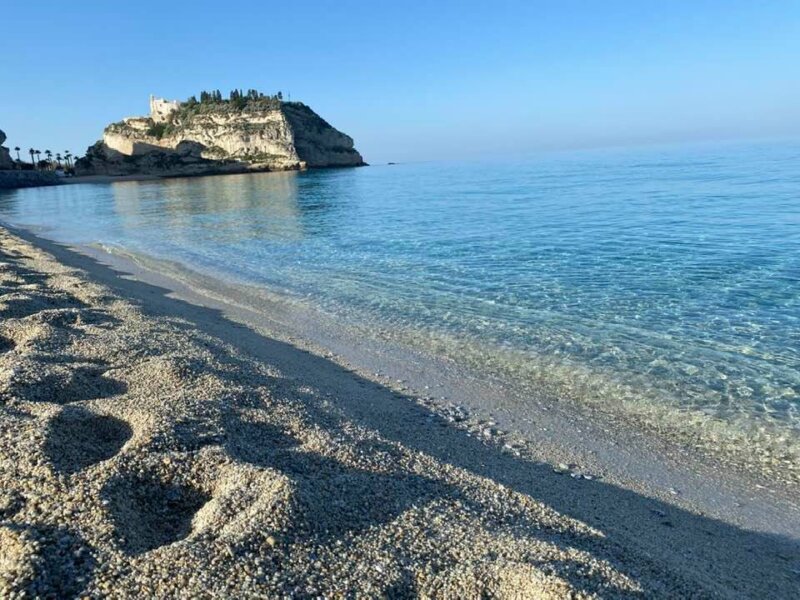 Known as Spiaggia Della Rotonda, it is definitely one of the most famous and beautiful beaches of Tropea. It is located just a few steps from the historic center of the city, so it is easily accessible on foot without renting a car or moving your own.
The seabed is sandy, the beach is golden, and the sea is crystal clear, making it ideal for families with children! Attention, however: in summer, it is literally taken by storm by tourists! The best times to enjoy it are early morning and May and June; better to avoid August! Being on the seafront, of course, there are all the services you need, and the choice of places to stop for lunch or dinner is extensive!
Check out the best accommodations to stay in Tropea.
Oasi Beach, Tropea
This wonderful beach is located 3.4 km west of the historic center. Also called Lido l'Oasi, it is one of the most beautiful beaches in the area! Ideal for those who want to relax and be in tranquility.
Even its location in particular: it is enclosed between rocky walls, characterized by golden sand and seabed that descends slowly, so suitable for families. It is also equipped with all the comforts to spend a day in total relaxation! You can rent your beach umbrella, use the parking lot if you move by car, and stop to eat something in the different places nearby.
Michelino Beach, Parghelia
It is located in the town of Parghelia, just 3.1 km from Tropea. The beach, hidden between rocky walls, is accessible only on foot, along a staircase of 210 steps that starts from Belvedere Michelino, from which you can enjoy a wonderful view!
Once down the stairs, you will find a little corner of paradise, one of the most beautiful beaches along the coast! There are no beaches, services, or anything else, only the unspoiled nature, white sand, and crystal clear sea! Suitable for all those seeking relaxation and nature away from the busiest beaches, it is not suitable for families with young children, for the lack of services. Also ideal for snorkeling and diving!
Contura Beach, Tropea
Beach very close to the historical center. E 'easily accessible on foot, so do not waste much time looking for parking. In fact, it is a very crowded beach in some periods of the summer, especially in August. From the port of Tropea is only 850 m.
It is a mixed beach; a part is free while in one area there is a lido that offers all the services you need: rental umbrella and deck chairs, toilets and bar for a quick lunch break or to drink something cool. It is also an ideal beach for snorkeling, thanks to its seabed and crystal clear sea.
Torre Marino, Ricadi
We move now to the west of Tropea, in the locality of Ricardi, where there is this wonderful beach that takes its name from the ancient and characteristic village that is located here. The best solution is to reach the beach by car and then take advantage of the public parking on site (better to arrive early to find the place).
It is a large uncontaminated beach, characterized by a wonderful crystal clear sea, ideal for snorkeling! The beach is mainly divided into two parts: a wider area with light sand, while the second area is narrower and with pebbles and gravel. There are no services or lidos with umbrellas and deckchairs, so it is suitable for those who want to be in close contact with nature.
Praia I Focu, Capo Vaticano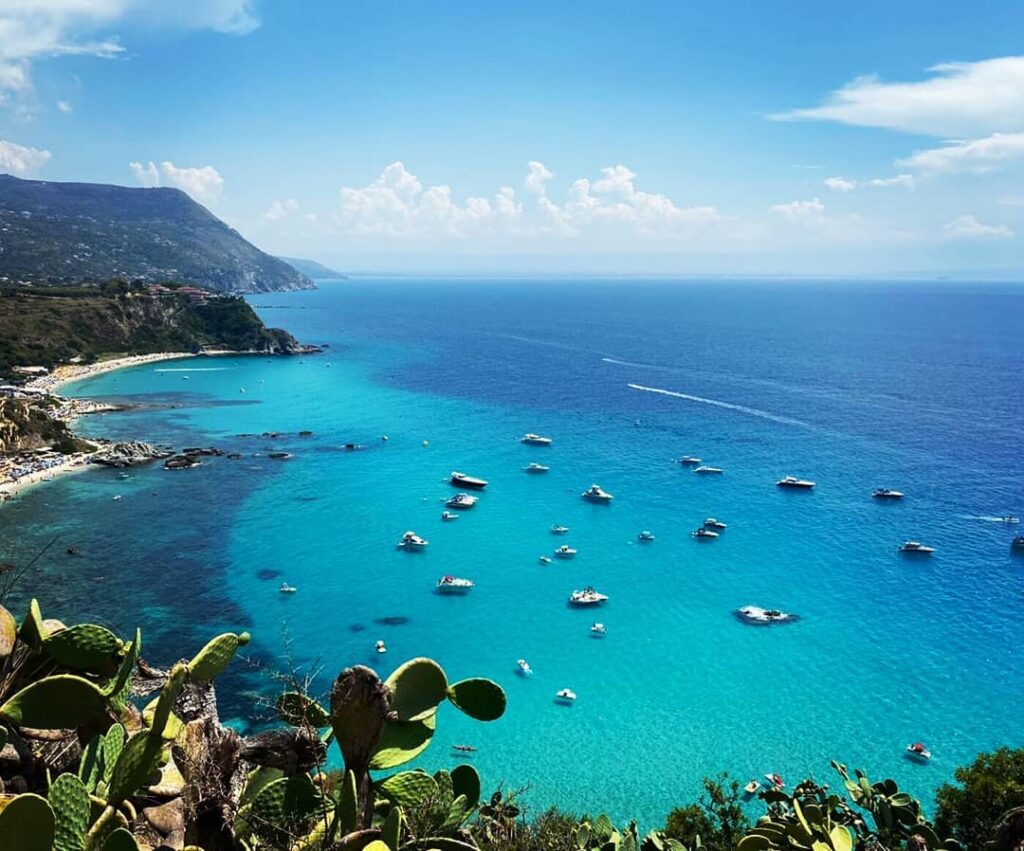 It is located along the coast, in the town of Capo Vaticano. It is one of the most beautiful beaches on the whole coast. Reaching it is not easy: you have to face several steps to get to this wonderful cove, but the view and the beauty that characterizes this area will repay all the effort!
It is a beach surrounded by nature, a small corner of paradise sheltered by rocky walls, characterized by white sand and crystal clear sea. Suitable for those looking for a bit 'of tranquility, away from the most crowded beaches, and for those who love snorkeling and diving. There are no services on site.
Zambrone Beach
You can reach it from Tropea by car or even by train to the station of Zambrone. Once you get off, you will have to walk a short distance of 1.5 km, passing through the town, and you will arrive at the beach.
It is an extensive beach so that you can find a place even on the busiest days, but it is always recommended to arrive in the morning to find the best places! Awaiting you, there will be a long stretch of white sand and a wonderful crystal clear sea. With a shallow and calm sea, it is also ideal for families with small children.
Petri i Mulinu and Grotta dello Scheletro
The cave is one of the most popular attractions of all Tropea, also called the Blue Cave of Tropea. This is located near the beach of Petri i Malinu and the previous Oasi Beach, from which it is possible to leave by boat to reach it.
Petri i Mulinu is an isolated cove, not very easy to reach, and, for this reason, it is quiet and not very busy, ideal for those looking for silence and relaxation. Being a cove, it has no services and is composed of light-colored sand mixed with pebbles and rocks.
Linguata Beach, Tropea
Just 400 m from the historic center of Tropea, then easily accessible on foot. You must first access the beach Marina dell Isola, then continue along a staircase, and finally, you get to the beach.
This is undoubtedly one of the most beautiful beaches of Tropea, where there is a lido frequented mainly by young people and families with children! This area is ideal for snorkeling and other fun activities such as canoeing and pedal boats with white sand and crystal clear sea.